METRO: DESTE PRIZE 1999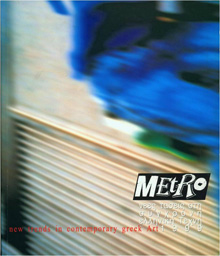 True to its commitment to promote contemporary art and support young artists, the DESTE Foundation has established the DESTE Prize to be awarded biannually to a young Greek artist. The first DESTE Prize, entitled METRO and curated by Dan Cameron, takes place at a moment in art history when the boundaries between local and international developments are becoming increasingly blurred. The works included in METRO aim to articulate one of global culture's most interesting concepts: the potential for local ideas and issues to be transformed into unifying principles that cut across cultural barriers of all kinds. Many of the works in the show explore social space and employ new media and technologies from a particular neo-conceptual perspective; others are characterized by an emphasis on personal narrative and references to private spaces.
Shortlisted Artists: Alexandros Georgiou, Maurice Ganis, Lina Theodorou, Despina Isaia, Kostas Ioannidis, Panos Kokkinias, Deanna Maganias, Panayota Tzamourani, Dimitris Tsoublekas.
Year of publication:

1999

ISBN:

960-7980-07-7
English - Greek / Paperback / 21 x 24,5 cm / 98 pages / 43 color / 10 b&w