Honoring Kaari Upson
On the occasion of the 10th anniversary of Art Genève, the DESTE Foundation for Contemporary Art is pleased to present an installation that pays tribute to our friend, the artist Kaari Upson, who passed away in 2021. This special installation aims to honor Kaari's legacy and introduce her work to a wider audience.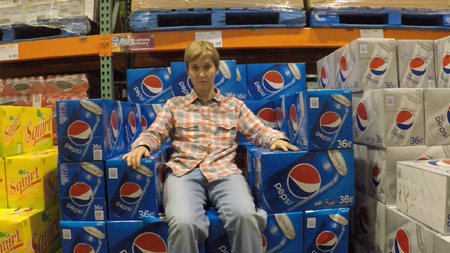 Kaari Upson (1970–2021) developed an elaborate universe woven out of memory, conjecture, fact, and fiction. Imbued with a mystical animism, each sculpture, painting, drawing, and video merges personal and collective traumas, desires, fears, and fantasies. Her intricate drawings reflect her rapid-fire brain, mapping out a web of connections, references, and ideas, providing both insight and confusion, clues and tangents. In the videos, Upson took on various roles—a version of herself, a twin, a lover, her mother, a friend—all while reenacting, theorizing, and questioning aspects of domesticity, personae, and interpersonal relationships.
Upson believed that the key to accessing oneself could be found in one's possessions, especially those contained in the home. A classically trained painter, she embraced failure and repetition, experimenting with unorthodox techniques and working under extreme circumstances with unpredictable outcomes. She developed a technique for casting discarded mattresses in materials including latex, fiberglass, and urethane, capturing every detail of the texture, stitching, and pattern of the original. The mattress sculptures represent an absence of the body, evoking loneliness, emptiness, and loss, but with their swirling, psychedelic colors, illusionistic shadows, and dizzying patterns, they become hallucinogenic vessels of memories and dreams.
Upson's interest in domestic objects and the concept of home grew out of "The Larry Project" (2007–2021), a series of works in which she investigated the psyche using a mysterious neighbor. Having acquired a significant amount of his personal belongings Upson obsessively researched him giving rise to an astonishing body of work about a man she never met. Later she turned to a more familiar figure—her own mother. In a series of videos and drawings Upson took on the role of her mother (often shopping at the big box store Costco) and made several life-size dolls of her, which doubled as cat beds [MMDP (quartet) / Pepsi Chair (2016), part of the MMDP (Costco) quartet video series, features Upson as her mother, in the same flannel and jeans worn by the cat bed dolls)]. Her mother's love of Pepsi inspired Untitled (1000 cans) (2015). To make them, the Pepsi cans were drained through a small hole in the bottom and filled with liquid aluminum that solidified, transforming the ubiquitous American soda into a relic. The cans represent the desire for consumption and possession, and her mother's embrace of all things American. Upson's pseudo-scientific approach was largely intuitive and speculative, resulting in confounding, provocative, and haunting works that feel both familiar and foreign.
For more information on Art Genève, please click here.