Jeff Koons: Apollo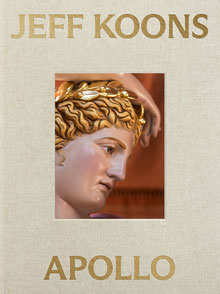 AVAILABLE SOON AT Artbook|D.A.P.
As the definitive record of Jeff Koons's transcendent offering to Apollo, Jeff Koons: Apollo brings together lush plates of the eponymous 2022 DESTE exhibition alongside an essay by Daniel Birnbaum and an extensive interview between the artist and Dakis Joannou. Koons's multisensory installation for the sun god shone a light on the interwoven history of Greek myth, readymade sculpture, and contemporary art to wide acclaim—so much so that the inhabitants of Hydra voted unanimously to have the Apollo Wind Spinner (2020–2022) remain permanently installed at the DESTE Slaughterhouse building.
For nearly forty years, Koons has brought his playful, insightful gaze to bear on pop culture and kitsch materiality—and now looks back to ancient history in order to unravel a timeless dialogue. "If you think about it, who are the gods? We are the gods," Koons notes, "the gods are the stories we tell each other." The many threads of this particular story are explicated here through a detailed "glossary of terms," tracing references from Plato to Duchamp and enlightening the reader on one of Koon's most distinctive works of the last decade.
Edited by:

Massimiliano Gioni and Karen Marta

Year of publication:

2023

ISBN:

978-618-5039-39-4
English / Clothbound / 24 x 31 cm / 120 pages