THE SAME RIVER TWICE: CONTEMPORARY ART IN ATHENS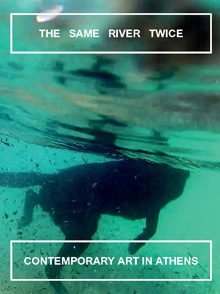 BUY AT ARTBOOK|D.A.P.
Published on the occasion of the 2019 exhibition The Same River Twice, organized by the DESTE Foundation and the New Museum, in collaboration with the Benaki Museum, Athens, this catalogue features the work of over thirty Athens-based artists of all ages and nationalities. It offers a portrait of a city with an artistic dynamism that continues to unfold as artists seek new models for creative output and exchange.
Featuring an essay by curators Natalie Bell and Margot Norton as well as texts by Nadja Argyropoulou, Danai Giannoglou, Delia Gonzalez, and Theophilos Tramboulis, this publication aims to establish a resource on Athens's multifaceted art scene—from underground happenings and activist orientations to the rise of artist-run spaces and the critical realm of self-published art zines and journals.
Edited by:

Sarah Stephenson

Year of publication:

2019

ISBN:

978-618-5039-35-6
English / Paperback / 21 x 26,5 cm / 271 pages