ΦIRMA GYPSY GLOBALES – WORKSHOP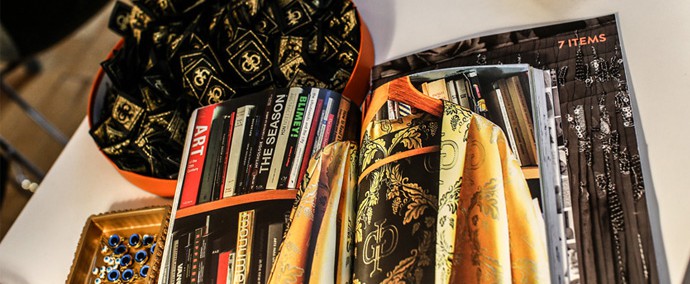 IMAGE GALLERY
Friday, September 26, 2014 at 18:00
Benaki Museum, Pireos St., Athens
Through her work Φirma Gypsy Globales, Greek artist Maria Papadimitriou creates a story around the fashion of Gypsies using objects and clothes from Roma camps. More specifically, the work revolves around the life and customs of the Gypsies and develops a hybrid narrative that explores issues of individual and collective identity. Φirma Gypsy Globales explains the importance the Gypsies attach to their attire as a symbol of the rituals that inform the tribe's laws and relations, setting behavior patterns and determining cultural and aesthetic representations of the body.
On the occasion of Papadimitriou's work, which is included in the exhibition DESTEFASHIONCOLLECTION: 1 to 8, a special event-workshop entitled "Φirma Gypsy Globales – D(o) I(t) Y(ourself)" will be held at the Benaki Museum, Pireos St on Friday, September 26, 2014.
The event will begin at 18:00 with the presentation of MARIA PAPADIMITRIOU – Φirma Gypsy Globales, a special edition that completes the artist's work in the exhibition. The book will be introduced by Nikos Bakounakis (Associate Professor of Journalism at Panteion University, Athens and cultural and literary editor-in-chief of the Sunday newspaper "To Vima"), Ioanna Laliotou (Historian), Theofilos Tramboulis (Curator) and Maria Papadimitriou.
Between 19:30 and 23:00, within the framework of the workshop, Maria Papadimitriou and the creative team of ΦGG, will create, with the audience's contribution, a collection of clothes and accessories in the style of the fashion house Φirma Gypsy Globales. To participate, one needs only to bring an old piece of clothing or accessory so that the creative team of ΦGG can direct one's stylish creation.
Special thanks to the following companies for their contribution in the realization of the workshop:


For more information on the DESTEFASHIONCOLLECTION: 1 to 8 exhibition, please click here.
For a detailed analysis of Maria Papadimitriou's 2014 destefashioncollection Capsule, please click here.
For information on the publication ΦIRMA GYPSY GLOBALES, please click here.