DESTE Prize: An Anniversary Exhibition 1999-2015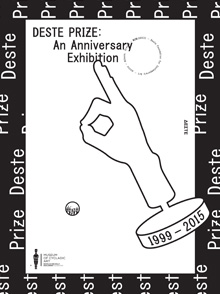 BUY AT THE MUSEUM OF CYCLADIC ART
The biennial DESTE Prize aims to create a platform that brings the work of young Greek and Cypriot artists to the attention of an international audience. DESTE Prize: An Anniversary Exhibition, 1999–2015 celebrates not only the artists who have received the award thus far, but also all those who have contributed to the prize—the jurors, short-listed artists, and members of the selection committees, among others—over the past eighteen years.
The catalogue includes texts by Loukia Alavanou, Nadja Argyropoulou, Sofia Bempeza, Christos Chryssopoulos, Bart De Baere, Stamatia Dimitrakopoulos, Richard Fishman, Vincent Geyskens, Antony Hudek, Andrea Liu, Frank Lubbers, Christoforos Marinos, François Michaud, Nikos Mykoniatis, Christodoulos Panagiotou, Heinz Peter Schwerfel, Yorgos Tzirtzilakis, and Hypatia Vourloumis.
It also includes contributions by Iwona Blazwick, Nicolas Bourriaud, Dan Cameron, Maurizio Cattelan, Jeffrey Deitch, Alison Gingeras, Massimiliano Gioni, Katerina Gregos, Madeleine Grynsztejn, Jennifer Higgie, Max Hollein, Laura Hoptman, Kasper König, Jessica Morgan, Tom Morton, Hans Ulrich Obrist, Michael Ringier, James Rondeau, Scott Rothkopf, Beatrix Ruf, Patrizia Sandretto Re Rebaudengo, Amanda Sharp, and Andro Wekua.
Year of publication:

2017

ISBN:

978-618-5039-25-7
Greek-English / Paperback / 32 x 23 cm / 307 pages